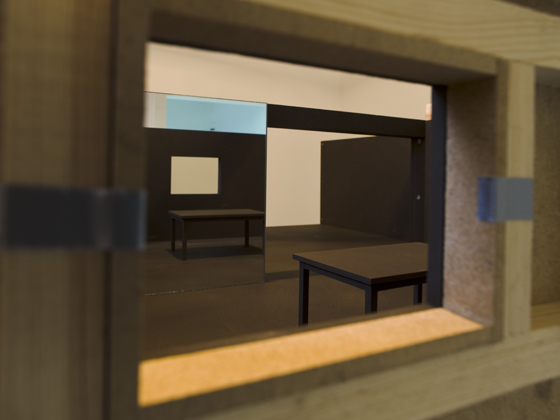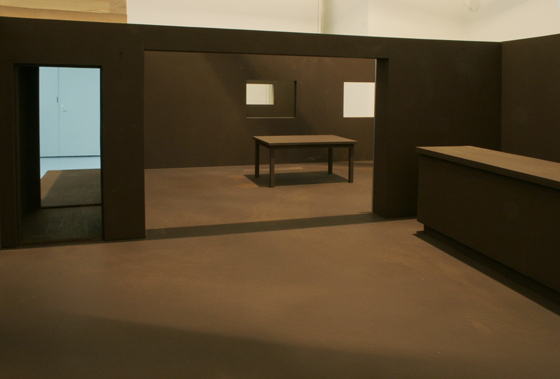 Untitled (Arrival); vinyl paint, mdf, wood, glass mirrors; dimensions variable. Photo: Terje Östling
Untitled (Arrival) is a work based on a memory: many years ago I read Franz Kafka's novel The Castle. I have since then had a strong image of the inn at which the protagonist K. arrives in the first chapter. This image re-emerged a few years ago when I was working on some sketches for other rooms. It was clearly a visual situation, an image, or more likely a complex of moments, moods and reactions, alternating between two perspectives in the room. When out of curiosity I started re-reading the book I discovered that the text in fact contained no description whatsoever of the inn or the rooms that I remembered. This fact took hold of my thoughts and I started studying this image in my imagination in an attempt to extricate it from my memory, to give it a description for the first time.
This image, so strongly connected to a place in a text, was in this way detached from its anchoring in the text in an attempt to document, transcribe and materialize it, clarify it. I started sketching and building a three-dimensional model of the room. But it was here in the materialization process that I hit the first glitch and started meeting with resistance because there is no compatibility between vision and image. The recollection of an image evoked by a text, which I tried to draw from the vision in my mind and fasten somewhere in space, and which I wanted to transform to an exterior picture (photo, painting or spatial structure)—refused to be reined in. The image in my eyes constantly slips away and the image in front of my eyes becomes something else. Both of these images are experienced and studied but it is somewhere here, between my thoughts and the table in front of me, that the images in my head rebound in slow motion, offer resistance in all their elasticity; and maybe it is only right now, maybe it is because I am concentrating on them, conscious of the thought process: I think that I can see the whole of that image of the inn in my mind's eye but now I don't really remember how I remembered it or what it looked like when I did see it.